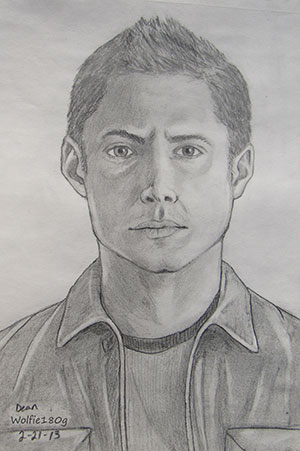 Aloof Wolfie180g, Artist
I would like to draw any one character or actor from Supernatural from a large clear screenshot from the show or from real life: promo shoot/interview/etc. I am not so great drawing manmade objects or busy backgrounds so I'll simplify them. You're here for the characters and not the scenery, yeah? Me too!
I am willing to ship the finished piece of art out anywhere with a valid mailing address, so long as I get the shipping and handling payment first. It will be sent in a thin cardboard letter mailer in a protective plastic cover so the image doesn't smear or crease. The size of the drawing is approximately 8x11 inches on high-quality paper. If you'd rather have a digital copy, I can scan it and email the final image to you or post it on my DeviantArt.
My opening bid price is $20.
No Fields Found.
Want your bid to show on the listing quicker? Email me with the artist/author's name to say you've made a bid.
Questions?
Want to get involved?
Julia.houston@gmail.com