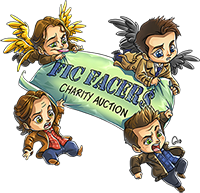 Welcome to the home of Fic Facer$ and our fundraisers for Random Acts.
Total amount raised so far $10,437.


Thanks for a great auction, everyone! 2020
Official Bidding Total $5,000
New on Angel Radio:
8/28/20 – Lots of updates to the archive!

7/20/20 – OK, I'm converting the 2020 Catalog to the 2020 Archive. We've got stories and art!


7/6/20 – First story from the auction!

NavajoLovesDestiel

's Heartbreak Warfare (Castiel/Benny, ABO, H/C, 4,155 words)


6/12/20 -BIDDING STARTS!

6/11/20 – Welcome new artist, Lady Random Box, and new author, Kales! That brings up to 68 creatives and 108 lots! You are all SO AWESOME!

6/9/20 -Welcome new author Grumpyphoenix!

6/8/20 – Welcome new author tricia_16! That brings us to 68 creatives and 111 lots!

6/5/20 -AlleiraDayne's put up Cowboys and Angels!

6/1/20 -Welcome new authors, Idabbleincrazy, Masterpiece of Turkey Cleverness and Gremma! That brings us to 64 creatives!!