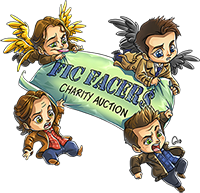 Welcome to the home of Fic Facer$ and our annual auction fundraiser for Random Acts.
About You
Please browse our collection, select an author or artist, chose from whatever options are offered, and make your bid. During the auction, this page will be updated throughout the day with the current highest bid (though this will not happen instantly). Feel free to bid as many times as you like.
About the Money
We are a strictly non-financial organization. All members of upper management and the Flight Team are unpaid volunteers. All payment of donations goes directly from the bidder to Random Acts. Read more about the money, or read our sexy Affiliation Disclaimer.
Upcoming Events:
June 2020, Fic Facer$ Third Annual Auction