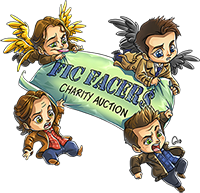 Welcome to the home of Fic Facer$ and our fundraisers for Random Acts.
Money Raised So Far – $5,227
+ 42 Raffle Tickets! =$5,437

New on Angel Radio:
New stories! Amyoatmeal Un/faithfully (Destiel, NC -17,  Audultery, Office AU, 4562 words) and Internetname Dyers Eve (Destiel, NC-17, Castiel Pines, First Time, WIP)
Two more tix sold!
New story! Nicklekeep Use Both Hands (

Destiel, NC-17, Word Play, PWP, 2450 word

s).
New stories! Palominopup The Tortoise and the Neighbor

(Destiel, PG, Cass Is a Vet, AU,

6260 words)

and

CastielsCarma

Detour

(Destiel, PG-13, Vacation, First Time,

7889 words)

.
New story! CR Noble has posted the first part of Possession

(Sabriel, NC-17, Non-Con, Deak Fic)
New Story! Lard butt Julia has posted the first part of her story, Vessels (Adventure, PG, OFC/OMC, Case Fic)
June 2020, Fic Facer$ Third Annual Auction