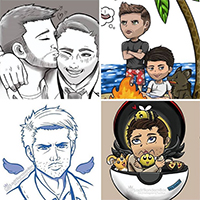 Lady Random Box, Artist
current high bid $80
Hi there! I'm a huge fan of Supernatural (like many of us) and I prefer to draw Castiel, Dean, Sam, and Destiel, but I'm open to draw any other character or ship you prefer! I can draw your commission in either comic or chibi style so check out my Instagram to get an idea of which style you'd like. I'll make your commission digitally and send it to you in high-resolution that you can print. You can have up to 3 characters in your commission.
My opening bid price is $40. I am offering one lot.
Want your bid to show on the listing quicker? Email me with the artist/author's name to say you've made a bid.
Questions?
Julia.houston@gmail.com