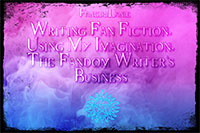 fangirl lanie, Author
With Supernatural as my muse, I love bringing the world of the Winchesters to life through words on a page. Dean Winchester is my specialty, but I truly love writing from all character perspectives. Even if that character is you, the reader! Action or romance, fluff or angst, I welcome it all! As a bi writer, I'm LGBT-friendly as well!
My minimum guaranteed word count is 1,200, and my opening bid price is $10.
Want your bid to show on the listing quicker? Email me with the artist/author's name to say you've made a bid.
Questions?
Julia.houston@gmail.com.