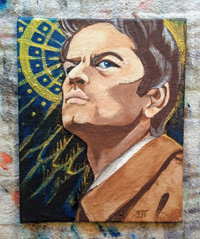 Gabriel Losechester, Artist
I am a multi-faceted artist who enjoys working primarily with acrylics and pen/ink. I haven't done much fanart as of yet, but I would love to expand my portfolio. I am offering artwork with up to three characters. You will receive the original pen/ink drawing or painting (dimensions not exceeding 8″ x 10″), and the best digital download I can supply.
USPS Priority Shipping costs will run roughly $8 within the US.
I'm also open to experimenting on non-traditional surfaces (e.g., shoes, canvas bags/clutches), so if you'd like to chat about something beyond a flat piece, hit me up!
*Please note that there might be an additional cost to cover objects beyond canvas board and paper.
"Tell me, what is it you plan to do with your one wild and precious life?"– Mary Oliver
Insta: tweet_art
My opening bid price is $30.
Want your bid to show on the listing quicker? Email me with the artist/author's name to say you've made a bid.
Questions?
Julia.houston@gmail.com.