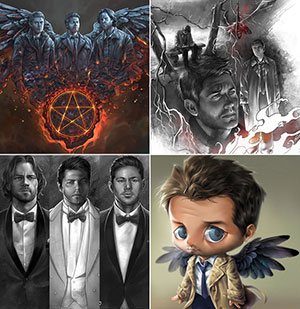 Gio, Artist
Lot #1 Current High Bidder $280
Lot #2 Current High Bidder $250
Lot #3 Current High Bidder $220
Lot #4 Current High BIdder $220
I can draw your request in a variety of styles: a realistic image, a stylized cartoon or comic style or a cute chibi version. I do prefer to draw Castiel, Dean and Sam, and Destiel is my ship. But I'm willing to draw any character and I'm open to other ships as well. You can choose up to three characters in one scene.
I'll create a digital art and send you a high resolution file, so you can print in any size, as you want. But also I can do a traditional piece (a drawing or painting) and ship the final artwork to you. If you want that, we can discuss about it. And remember, for the shipping prices, I live in Brazil.
"Don't take my devils away because my angels may flee too." – Rainer Mary Rilke
You can select up to three (3) characters in one image, and my opening bid price is $50. I am offerin 3 lots, and the requested arts will be done in order from the first bidder to the last one!
Want your bid to show on the listing quicker? Email me with the artist/author's name to say you've made a bid.
Questions?
ficfacers@gmail.com