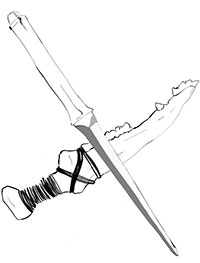 Maldoror_Chant, Author
Time to grab those blues and unload a clip into 'em. I write all genres, from romantic comedy to angst and violence, but always shot through with a little wry humor. Sometimes even a lot. I use words and imagery with all the gravitas of a kitten tackling a ball of yarn, ignoring the frequent Cease and Desist letters from the stodgier reaches of the English language. If that's your jam, throw me ideas and watch me go!
"If I can't dance, it's not my revolution!"—Emma Goldman
My minimum guaranteed word count is 2,000, and my opening bid price is $10.
Want your bid to show on the listing quicker? Email me with the artist/author's name to say you've made a bid.
Questions?
Julia.houston@gmail.com.