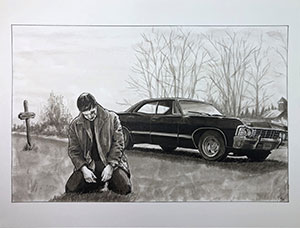 Marie Campfield

, Artist

I will make an ink drawing (black and white) from a SPN screenshot. I can do either a full scene (or a part of one), or a portrait of a character or object with a white backgroun

d. I especially enjoy capturing powerful emotional moments and iconic imagery. For portraits I try to choose images that really sum up the essence of a character. Work safe and kid safe please, but this is a CW show so really most images/scenes are fine. If you have a question about anything, just ask!

My opening bid price is $50.
Want your bid to show on the listing quicker? Email me with the artist/author's name to say you've made a bid.
Questions?
Julia.houston@gmail.com.