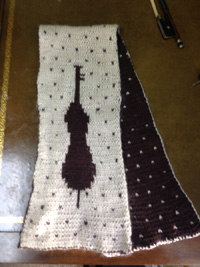 string theory, knitter
I'll make you a five-foot scarf with two SPN designs, one on each end. This is double-knitting, so the design will show on both side of the scarf. Pick your colors and images. 
"No, it's turtles all the way down." – Stephen Hawking
My opening bid price is $70, which includes shipping inside the US and a washable microfiber/wool blend yarn. For international shipping and/or a more luxurious yarn, I can tell you what you'll need to add. Just ask!
Want your bid to show on the listing quicker? Email me with the artist/author's name to say you've made a bid.
Questions?
Julia.houston@gmail.com