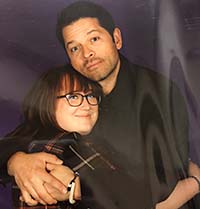 TurnThePaige, Artist
I like to do characters from Supernatural in my personal style. I do Destiel or Sabriel, and I'm open to simple scene suggestions. I am also open to gender bending if that is something you are interested in.
"It's hard being weird. No—it's hard living in a culture that makes it hard."–Felicia Day
My opening bid price is $10. If you want a hard copy, I'm happy to ship, which would be $5 for USA, $8.00 for international. (This lets me guarantee the safety of the item.)
No Fields Found.
Want your bid to show on the listing quicker? Email me with the artist/author's name to say you've made a bid.
Questions?
Julia.houston@gmail.com