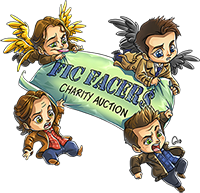 Welcome to the home of Fic Facer$ and our annual auction fundraiser for Random Acts.
Q. Does Random Acts know about Fic Facer$?
A. Random Acts knows about us and has said nice things, but we're not affiliated with them. We can use their logo, but only with a disclaimer.
Also, if you post a story and mention Random Acts in your notes, you need to post at the beginning and final end of your story the following same disclaimer: This story is not affiliated, associated, endorsed by, or in any way officially connected with Random Acts, or any of its subsidiaries or its affiliates. All donations have been paid directly to Random Acts, who do not own Supernatural or any of the characters in the stories.
Q. What, exactly, happens to the money?
A. We don't touch it. Learn more here.
Q. Can I invite a friend to join us?
A. Please do! Just have them write me at ficfacers@gmail.com.
Q. Do you need people to help in other ways than by being a creative?
A. Absolutely. I'll be sending out emails for things that need to be done (mostly promotional stuff) that people can do or not do as they like.
Also, we have a private Facebook group that has an ongoing chat to which you will be invited if you join. You can also join our public Facebook Group.
Q. I'd like to help, but I'm not that creative. Are there other ways I can contribute?
A. If you'd like to help but don't want to write or do art, we need help spreading the word, brainstorming ideas, and all manner of things. Learn more here.
Q. What if I don't want to write the story the bidder asks for?
A. This is supposed to be fun! Write me and let's talk so you and your bidder are both happy.
Q. What if something comes up and I can't get it done in three months?
A. Then you can take an extension, but we want to know, and we want your bidder to know.
Q. I have a friend who wants to give money but doesn't want a story. Do we just take donations during this auction?
A. Yes. There will be a "donation box" for those who just want to pitch in.
If you have any more questions at any time, just ask! A major reason we do this is to meet fellow SPN fans and creatives.
Julia